Bens is a very special addition to our sponsorship program because his story is phenomenal. In June of 2015, we were getting ready to go out an watch the sunset behind Hope Center when someone came flying up on a moto holding a child in their arms. The mother was frantic. Her child had fallen into a fire after having a seizure. We rushed to get them into our truck and took him to the Doctors Without Borders burn center in Port au Prince. This child was Bens. He and his mother stayed there in the hospital for over 4 months where he recovered amazingly. In October, he and his mother stopped by Hope Center to show us how well he had recovered. He still had a few bandages on him, but he had that smile that won't quit. He was so proud of the progress he had made. From time to time, has Bens recovered, he would stop by to see us. At some point, he stopped coming by, and we began to wonder where he was.
Two years passed, and one Sunday we were sitting in church and one of the team members noticed a little boy sitting on the back row. He was dirty, beat up, and seemed very disoriented and emaciated. She went to sit with him and immediately realized he needed help. We didn't even recognize him until we got him up to Hope Center and started talking to him! It was Bens!! He had been wandering from village to village, not taking his seizure medicines, and randomly having seizures and falling into the rocks. We helped him get a shower and change clothes and eat a hot meal. We did some investigating to find out that his mother had been making him sleep outside in the yard because she was afraid that her other children would "catch" the disease he had and start having seizures too. As is common in many uneducated areas of Haiti, it was believed that he had been cursed by an evil spirit that was causing him to have these seizures. We tried several times to get him assimilated back into his home but he just would not stay put. He would wander around from village to village and end up in the same shape every time.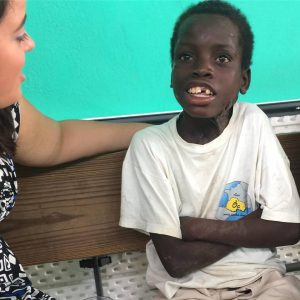 After realizing we needed more specialized help for Bens, we reached out to a fellow organization called Haiti Mama to try to get help for him. He went to live with them there in Port au Prince and they started taking him to a neurologist to get him regulated on the right medicine. He blossomed while living there at Haiti Mama. Bens was always the life of the party. He developed friendships that gave him confidence and helped him discover his value as a person. They also worked with his mother to help her understand the sickness that Bens had and how to manage it to prevent frequent seizures. It was just the help Bens needed to get his life back on track.
Now Bens has reached a point that he can move back in with is family and thrive in his village without being a danger to himself. He is ready to start to school too! Last year, in our BGM School system, we started a special education class for students with special needs. This year there will be three young men in the class and one of them will be Bens!! He will learn to read and write and many other things. He has an amazing teacher who loves Jesus and loves teaching. He is perfect for teaching this class. In order for us to pay this special teacher as well as meet additional educational needs in the class, we have to allow more than one person to sponsor Bens. This way, if for some reason one person has to stop sponsoring, we aren't left with a deficit in our ability to meet his needs. If you would like to sponsor Bens, please click the link below.
The traditional sponsorship is $37/month, but you can put any amount above $37 that you feel led to contribute to his education if you feel so led. Please pray about it, and do as the Lord leads. Thank you for joining us in praying for Bens and his family. We are so thankful for this opportunity for Bens as well as his other classmates. God is so good, and He has a special plan for Bens. We are looking forward to watching the rest of his story unfold.